Are you tired of using the same old WooCommerce themes that don't quite meet your needs? Look no further than WeShop – the new WooCommerce WordPress theme. Our team has previously developed diverse multipurpose themes, but this time, we aimed to design a theme exclusively for e-commerce websites. This theme will be a great solution for anyone looking to market and sell products on the web.
Get ready to take your online shop to the next level with WeShop. This WooCommerce theme allows you to customize your site using the intuitive Gutenberg editor or the powerful Elementor builder. With our skillfully designed blocks and widgets, you can effectively display your products attention-grabbingly. Moreover, our inclusive product filters will make the shopping experience a breeze for your customers.
With its sleek and modern design, WeShop is the perfect theme for creating a stunning online store. But it's not just about looks – WeShop encloses features that make it stand out from the competition.
Benefits of WeShop
Easy to use
We have designed WeShop with the user in mind. It's easy to set up and customize, even if you don't have any coding experience. Elementor is a user-friendly and easy-to-learn page builder with a front-end editor, which makes it easier, especially for developers with no coding skills. Also, WooCommerce integration makes it a great choice to easily manage your online store, accept payments securely, and manage orders and inventory from within the WordPress dashboard. WooCommerce extension provides an all-in-one solution for businesses to seamlessly sell and manage their products and services online.
Mobile-Friendly
With more and more customers shopping on their mobile devices, it's important to have a theme that looks great on any screen size. WeShop is fully responsive, ensuring your store looks great on any device. Also, Elementor provides an easy way to customize your pages per device.
SEO optimized
WeShop is built with SEO in mind, ensuring your store ranks well in search engine results pages. WeShop utilizes legitimate HTML5 coding and CSS3. Search engines would highly appreciate its tidy coding.
Fast Loading
Customers don't like waiting for slow-loading websites. WeShop is optimized for speed, ensuring your store loads quickly and keeps customers engaged.
Handcrafted Gutenberg blocks and Elementor widgets
Our team has developed 20 Gutenberg blocks and 47 Elementor widgets that are handcrafted with precision and care to enhance your website-building experience.
Customization options
WeShop is highly customizable, so you can create a store that perfectly matches your brand. Choose from various fonts and colours, and easily add custom CSS if needed.
Product Filters
Customers can use six different product filters to narrow their search for products on our website. There is no need for external plugins to implement such filters on your shop page.
Safe Button
The impressive feature offered by Greatives themes is now accessible on WeShop. It is a button where you can add any content you need created with the builder of your choice.
Second & Third Menu
You can select from three distinct menu positions to design intricate and contemporary headers.
Side Area
This feature is an extra hidden sidebar area at the top right of the site to provide quick access to important content or links.
WeShop live demos
Don't just take our word for it – see how WeShop can transform your online store. Check out the available theme demos for different types of websites of online stores:
Main Demo – This demo includes all pages on the WeShop main demo page. One example would be web pages incorporating various components such as utilities, Shop & Product, and Blog pages..
Intro – This online store sells a wide variety of pet supplies. WeShop's easy-to-use product pages and customizable checkout process make it the perfect theme for an online pet store.
15 Homepage demos – You can choose between 15 different available e-commerce homepage layouts created with the Elementor plugin.
Support and documentation
We know that developing a new theme can sometimes be frustrating. That's why we offer comprehensive documentation and support for WeShop. Our knowledge base is extensive and covers all important aspects of the theme. We provide 24/7 support through the Ticksy system. Our support team is always on hand to help you with any questions or theme issues you may encounter.
Try WeShop today
Do you want to create your online store from scratch or upgrade it? Try WeShop today and see the difference for yourself. As a special offer for our first 50 customers, we exclusively provide an unbeatable intro price on Themeforest. If you want to make a test drive of WeShop, you can use our Sandbox.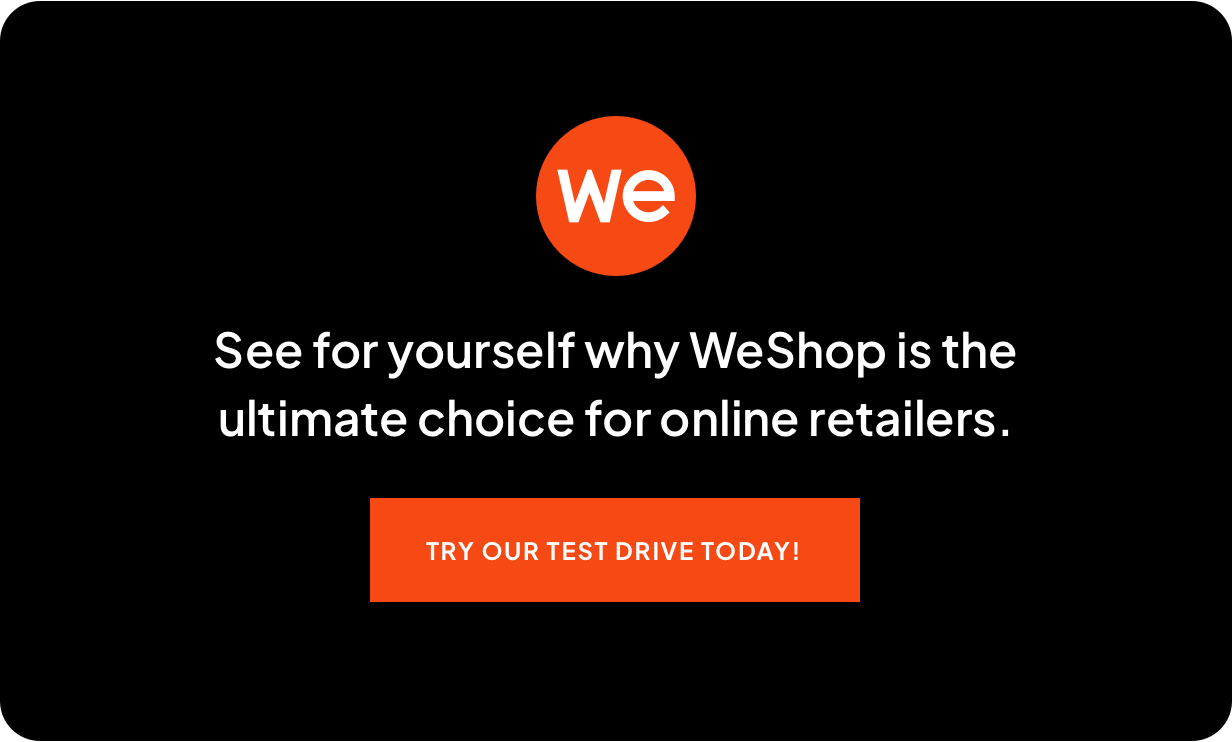 Don't settle for an outdated WooCommerce theme – upgrade to WeShop today!
Conclusion
The WeShop WordPress theme is great for creating a professional and modern e-commerce website. It offers a variety of customization options and pre-built templates to make designing a website easy and streamlined. Thanks to the exceptional responsiveness of the theme, your website will appear impeccable and function seamlessly on all devices. Moreover, this means that users can access your site from various devices without experiencing any issues or visual discrepancies.
Subscribe to
our Newsletter